Welcome, this is my first collaboration on this site and it sure feels good. Let's get started.
20 years ago to this day, at least in the United States, the classic sitcom Cheers aired its finale which had an audience that has since only been beaten by the finale to M*A*S*H* as far as TV series finales go. It was a place where everybody knew your name and audiences loved the characters, the dialogue, they loved everything about it.
In that 20 years since, the cast members have had differing levels of success in getting other roles as such. Who did the best out of them all? Well, here is the top 10 of the 10 major characters.

Let's begin.
Atreyu: Welcome aboard, richb!
richb: A pleasure to be here my friend! Cheers was an amazing just show, just wish I hadn't been to young to watch for most of its run. But when I did start watching I was hooked. 
A: Ah yes! Cheers might be in my top 10 - nay! - top 5 shows of all time. The ensemble is great, they all seem friends with each other and the timing is pitch perfect. If this list were the actual favourite characters being ranked, I would be having a hard time.
I will start off with number 10. ...... This might be awkward, but .... Nicholas Collasanto who played Coach.
He played such a great character, kind-hearted and dim-witted. There was not a bad bone, nay a bad cell, in his body. Through the first three seasons he entertained, but around the third his health became worse. Sadly, he passed away but the cast of the show have always showed deferrence to him.
r: Honestly don't have much to say about Nicholas Collasanto. He was never my favorite but I do respect how he kept working even though it was clear that he was not well.

A: Next, I think it's Shelley Long who played Diane Chambers - a constant romantic folley to barkeeper Sam Malone. Ms. Long was said to have had potential to have a great career but that went south. Aside from the Brady Bunch movies and occassional appearences in the sitcom Modern Family, there really is not much to her repetior. Could you enlighten us, richb?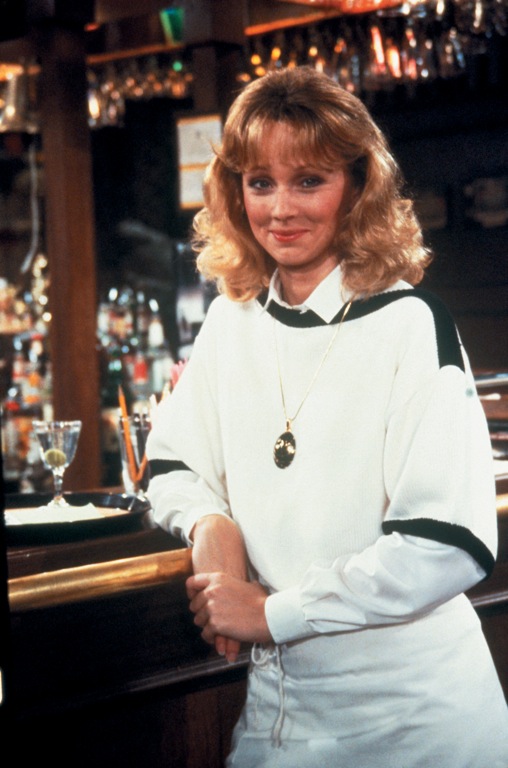 r: Poor Shelly Long, she did Outrageous Fortune with Bette Midler which was a great movie and a big hit. Then she made the mistake of thinking that she could be a big movie star. Mistake! Bad scripts and silly movies sunk her. I give her credit for one thing, she wasn't such an ego that she was afraid to return to her roots and she reprised her role as Diane several times. A lot of people would never do that.
A: As for Ms. Long, I myself have not seen her in any of her films but she had quite a few attributes of potential star - she was gorgeous and very charismatic. Most actors/actresses in her shoes would be too pompous for what she did - she definitely has a humility about her.
Next, I would say it could be either George Wendt or Rhea Pearlman who played *cue audience cheer* and Carla respectively - the two could swap places in this list.
They might have had some great roles beforehand, but afterwards I do not have much recolection of Mr. Wendt's career and Ms. Pearlman appeared in Matilda with then-husband Danny DeVito (who directed the movie as well).
To buzz on through I will mention Bebe Neuwith who played Frasier's wife Lilith. I am not very knowledgable about theatre, stage shows, operas etc. but I have heard she has a decent carrer on the stage. Unlike a lot of her co-workers on this show, her appearences in the spin-off Frasier were more numerous and actually had plot as opposed to fan service. Her chemistry extends to Niles and Martin on the show, but I do digress.
Your two cents?
r: George Wendt appeared briefly in a sitcom in the 90's but the show sucked. I think he has pretty much retired, nothing wrong with that. He has been in some so-so Christmas movies. Rhea Perlman has done pretty much the same, appearances here and there which didn't amount to much.
Bebe Neuwirth was amazing in Chicago, er, so I'm told anyway. I respect that she appeared in Frasier in character, it shows when she left Cheers it wasn't because she decided she wss to good for the show or something. She just decided to move on. She really fit in on Frasier and she carved herself a small niche on that show.  She also appeared in Will & Grace as herself in a very clever cameo, saying she wants to play Lilith forever. But she has never been typecast, it's too bad her Law & Order series didn't take off.
A: Ah lovely! Ms. Neuwith does have a lot of a presence about her without needing to speak. Too bad her dramatic attempt never got off the ground.
Next I will say it is Kirsty Alley followed by - a big call, but hold out please - John Ratzenberger. These two played Rebecca Howe and Cliff Clavin respectively.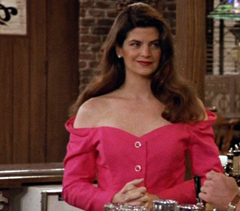 Ms. Alley did have a turn on the modest success of a sitcom called Veronica's Closet. I have not seen too many episodes, but it seemed to win some Emmys. There have been some other appearences to varying degrees of success; however, weight issues and Scientology seem to have taken presedence over her talent.
As for Mr. Ratzenberger, he has had a voice in every Pixar film so far. Just think of the revenue from all that over all the roles. Am I blowing the success out of proportion?
r: I give Kirstie Alley all the credit in the world. She had big troubles with her weight and of course the victim to media scrutiny because of that. The fact she has overcome that is remarkable, Career wise,,,except for some reality shows she hasn't done much.
Now John Ratzenberger on the other hand, wow! I was as susprised as anyone else to hear him in vitually every Pixar movie, and he himself has even had fun with it, He has a distinct voice and manages to make each character a little different. It's funny to think how many kids know him from Toy Story more than Cheers!
A: Well, good on Ms. Alley. Also, Toy Story was a part of my childhood (I was 6 when it came out and it was a big deal) thus I know Mr. Ratzenberger from his voice work more than from Cheers. He is one talented man.
Now we get on to the big ones. These are the three who have really had solid careers hereafter the Cheers finale.
Third best, it is the main man of the show - Ted Danson who played Sam Malone. Mr. Danson was a big star for a while and has had a steady career since along with an active role in environmentalism.
People might recognise him nowadays more for Becker - which aint a bad show - Damanges, CSI and a relative newcomer to Curb Your Enthusiasm. Those are just the major roles, he has had bit parts in many TV shows and even some movies.
Who knew he would be able to shake off the persona he played for over a decade?
r: It's absolutely amazing. I used to watch Becker, and I never saw Sam Malone in that role, In fact it was the opposite, once in awhile in Cheers when Sam got upset he sounded more like Becker. That show proved to everyone that there was more to him than Sam. Ted Danson is a great actor, I saw him in the Gulliver's Travels mini-series back in the 90's and it was very good. He was on Cheers for 11 years but emerged just fine. I don't think even Alan Alda can make that same claim.
A: I have been recently watching Cheers, have not noticed Sam "turning" into Becker so I might watch more closely. Just another example of when a TV actor hereafter plays a character who is the absolute opposite of the one that people are most familar with them playing.
Well, apparently Frasier Crane was going to only be there for the initial story arc but audiences just loved Kelsey Grammer and his delivery. It was then decided that he would stay on as a regular. To think what would not have been .....
Yep! The spin-off, Frasier. Garnering a total of 37 Emmys being unbeating in the Prime Time the show Frasier lasted 11 years as well bringing the number of years playing that same character to 20 (a tied record with Jame Arness on Gunsmoke playing Marshal Matt Dillon). In this regard I would say the spin-off counts considering its popuarity and everything. That is not all he has done though.
Perhaps, Mr. Grammer has not had the best of movies careers with Down Periscope and the mediocre Swing Vote. Your millage may vary with quality, he had an appropriate casting part as Beast in X-Men 3. Though he did have a wonderful voice part in Toy Story 2 as the villian, Stinky Pete.
Speaking of voice parts, there is the recurring role of Sideshow Bob in the Simpons and it is usually a riot whenever he is on.
Some of these roles though you might say are essentially just Frasier Crane - I can see how. At the moment though, he has an acclaimed role on the series "Boss" playing the mayor of Chicago who is suffering from a progressive disease that he must hide from the public.
I have seen a few episodes of this show, and it took only one episode for him to remove any trace of the loveable and good-natured Frasier Crane. Yes, this character is a real bastard.
Your thoughts richb?
r: I have only seen a few clips but he sure has created a whole new character. as The Boss Grammar was even worse off then Ted Danson because he had been playing Frasier for 20 years! I did see Down Periscope, sorry to say, but I thought he was great in Toy Story 2. He actually does do a good job keeping Frasier separate. He did an episode of Becker and never did it feel like Sam and Frasier talking. He also did a decent version of A Christmas Carol, and I love his brief appearance in an episode of Star Trek TNG. He has done a lot, and just a superb job of not being typecast. Better than another other person from Cheers, except maybe, youre number one choice!
A: Number one. For anyone keeping track, they know who it is by process of elimination. Opinions are going to be different, however looking at his resume he dwarfs any other career in my mind after this sitcom. None other than ....
Still with us?

WOODY!
Played by Woody Harrelsen, What might have helped is that during his time on Cheers, he started his movie career - therefore he was escaping type-casting before the worry need set in. To show off some his acting credits:
Natural Born Killers
Kingpin
The People vs Larry Flynt
Wag the Dog (great movie by the way)
The Thin Red Line
A Scanner Darkly
No Country for Old Men
The Messenger
Zombieland
2012
The Hunger Games and the upcoming sequel.
That is just the major ones as well. This guy has done really well for himself. There has also been a small stage career as well - nothing that I can really speak of. I cannot see how it could anyone else taking the first place myself, but I would like to hear other opinions.
On the side, like his co-star Danson, he has been active in the environment field as well.
So, richb. What do you have to say for Mr. Harrelsen and his career? Is number one deserved or not?
r: No argument here. Woody Harelson's resume is just amazing. Maybe one reason for his success as you said is that he started in movies before leaving Cheers. He has been in some of the most interesting films in the last several years. Ok, they weren't all gold (2012 anyone?) but many were. And in each one he plays a new character. Now I do have to be honest, I am not a fan of his film work. Nothing personal but I just have no interest in most of the movies he makes. I did see Doc Hollywood which was an early entry. I admire him for something else. He did an amazing guest turn on Will & Grace as Nathan for several episodes. But the thing I really admire him for is that he has no ego regarding Cheers. I said Shelly Long was never to good to go back to her roots, but she had no career. Woody was a major movie star, he could have been a jerk about where he came from. Instead not only did he repise his role as Woody on Frasier, but when Nick @ Nite brought Cheers over he was the cast member to appear in ads for the show! Maybe it's just me but I am impressed by that. Woody is an amazing actor and has proven that being on a TV show, even one like Cheers, doesn't have to hurt your career if you don't let it.
A: Yep, that is very true. Like him or not, his work ethic and persona both show just how good of a career he had and that he does not - to use a phrase - bite the hand that fed him. Regardless, it is impossible to dislike his character on the show.
So, there we have it. The countdown on who had the best career since Cheers; some are better than others as it can be seen. If you have not seen the show, it is really worth the while. Writing is spot on and their delivery is not be least bit slack.
Anything else to contribute, richb?
r: The cast of Cheers proves you can do good TV and not have it hurt your career. If you haven't seen Cheers definitely check it out. It's a show that never ages, like MASH or Friends. Thanks for asking me to help out with this, you did a great job and this has been lots of fun!
A: You're welcome.
Everybody, this has been a contribution with richb! He has been a great help here and hopefully there will be more of these to come.
See you next time, peoples!
Final Thoughts
When the series finale of The Mary Tyler Moore show aired, a rare piece of footage rolled at the credits. After a stage encore where all the major actors came out to greet the audience (Mary Tyler Moore, Valerie Harper, Edward Asner, Gavin MacLeod, Ted Knight, Betty White, Georgia Engell and Cloris Leachman) Ms. Moore proclaimed "best cast ever!"
I think there's competition here.
So, what are other people's thoughts on the Cheers cast? All comments are welcome.