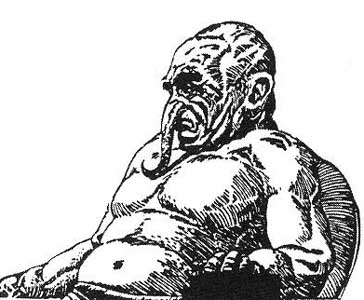 One of the most bizarre theories in the field of parapsychology is the Hollow Earth hypothesis, the belief that subterranean ecosystems and civilizations exist below the surface of the planet. While this theory was disproved by modern science, it persisted for millennia. Some of the earliest incarnations were in ancient myths that many cultures (Greek, Celtic, Native American) about passageways that led deep into the earth where the Underworld existed. The concept was promoted during the scientific Renaissance in Europe, with prominent scientists like Sir Edmund Halley and Leonhard Euler offering their thoughts on a hollow earth. During the Spiritualist movement of Victorian England, the theory gained new additions with claims that advanced races which existed before modern humans, such as the descendants of Atlantis, lived in sophisticated cities below the Earth. The idea was further popularized by works set in this inner Earth world written by authors like Jules Verne and Edgar Rice Burroughs, encouraging several failed expeditions to find a passageway into the planet. It's even rumored that the Thule society, the Nazi occultist organization, sought entry into one of these fabled civilizations in the hopes of finding advanced weaponry that would help the Axis power win the war. According to some, though, this chthonic realm didn't hold only advanced wonders, but also creatures of nightmare.
In 1943, former welder Richard Sharpe Shaver sent a letter to Amazing Stories magazine. He claimed to have discovered a primitive alphabet, which he called Mantong, that was used by the ancient cultures of Atlantis and Lemuria, and which served as the basis for all known languages. In Mantong, each letter represented a certain thought or meaning; putting them together in a word offered a perfect description of what it was used to represent. Ray Palmer, editor of the magazine, tested out this alphabet on several words in English, as well as other languages, and found the results matched up with Shaver's assertion. The letter was published in the January 1944 issue of Amazing Stories, and Palmer wrote back to Shaver asking how he developed this linguistic formula. Shaver's response was a bizarre, terrifying tale.
In a lengthy essay titled A Warning to Future Man, Shaver explained how in 1932, a welding gun at his job site began to emit some strange form of energy that allowed him to hear the thoughts of his co-workers. More frightening, though, was that he also became aware of a torture session being conducted in caverns beneath the Earth's surface. Shaver quit his job and began investigating the source of this sadism, eventually discovering massive cities constructed below the surface. He claimed that these cities were created thousands of years ago by two advanced alien species, the Atlans and Titans, who possessed incredible technology. They colonized Earth in ancient times and lived idyllic existences, but when the sun's rays became too detrimental, they retreated underground for protection. This escape only proved a temporary solution as the solar radiation continued to seep through the earth, mutating their bodies and minds, making them more savage, brutal creatures. Most of the Atlans and Titans left Earth for another planet, leaving behind their descendants. Some of their offspring returned to the surface, eventually developing an immunity to the radiation, and evolving into homo sapiens. The others remained underground, further degenerating into the monsters Shaver called deros.
The deros (short for "detrimental robots", the letter D means harmful or detrimental in Mantong) were not mechanical beings, but rather acted robotically due to their barbaric nature. In his story Formula from the Underworld, Shaver described them as "…fearfully anemic jitterbugs, small, with pipe-stream arms and legs, huge protruding eyes and wide, idiotically grinning mouths. Super-goofy, I believe modern youth would call them." Despite their odd appearance, though, deros were nothing to laugh at. They were sadistic monsters, kidnapping thousands of innocents from the surface world each year to torment. Some of their victims were tortured, vivisected and disembowled while still conscious, kept alive for months by alien technology to prolong the suffering. Others were used as a food, eaten alive in many cases. Women suffered the worst, being subjected to horrendous sexual torment, drugged and lobotomized before they were raped.
The deros also used their technology to torment humans remotely: emitting radiation that projected bizarre thoughts and suggestions into unsuspecting minds, sabotaging machinery, spying on world governments, kidnapping prominent members of society and replacing them with clones loyal to the dero, even causing natural disasters. They would frequently patrol the surface from the sky in advance spacecraft, looking for humans to abduct or areas where they could wreak the most havoc. Shaver stated that he knew of their evil because he spent years as a prisoner in one of the deros' cavern cities, though he never elaborated on how he escaped.
Shaver's story became a cult phenomenon when Palmer edited and published it. Throughout the rest of the 1940s, his tales of the bizarre subterranean world (an anthology dubbed "The Shaver Mystery" ) drew criticism for promoting such sensationalist nonsense, but also intrigued many interested readers. Amazing Stories received a number of letters from its fans claiming that they had also visited the underground world and encountered deros. It resonated with several conspiracy-theory minded people who now felt that there was an identifiable enemy responsible for the ills of the world. In addition, the descriptions of the deros' spacecrafts helped spark interest in the UFO movement years before the infamous Roswell incident and Kenneth Arnold sighting. In 1948, the tales of the Shaver Mystery were no longer published due to declining reader interest, though Shaver would claim that the magazine was pressured into dropping his work by "outside forces."
Shaver spent the last years of his life in obscurity, continuing to search for evidence of ancient civilizations, which he believed had been inscribed into various rocks. Looking at his life in retrospective, it's clear that Shaver suffered from schizophrenia; he was obsessed with a fictional world he had created, leading him from a stable job, to homelessness, to incarceration in a mental institution, to minor fame, and finally back into anonymity. While not very well known today, Shaver's work have still inspired a small legacy. Authors Harlan Ellison and Bill Ectric have written works that reference the underground civilization of the deros and the torture inflicted on humans taken there. Marebito, a 2004 Japanese horror film directed by Takashi Shimizu, features blood-drinking humanoid monsters dwelling underground that are called deros. Pop artist Jermaine Rogers has his own interpretation of deros that he's used to promote rock concerts since the early 90s, portraying them as teddy-bear like beings with large red eyes and disturbing grins. Rogers himself believes that deros are real, but that they have a much more complicated agenda, and Shaver's fantastic works prevented people from treating their existence as a serious matter and investigating them. Perhaps the strongest legacy of the deros, and the Shaver mystery, is the knowledge that the most terrifying monsters are those created by an unstable mind.