Now lets get one thing straight. These are my two favorite television programs of all time:
I love The Three Stooges and Looney Tunes, they are the best TV I've ever seen in my life. However, they can't be on this list. Why? Because they aren't television shows. Both were originally short films that appeared before features in the theater. This list is for programs produced for television only.
Now, on with the list.
10. The Andy Griffith Show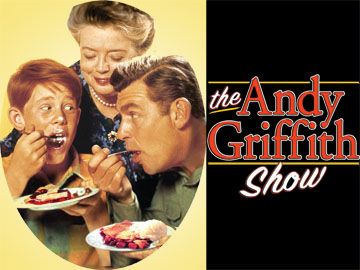 Growing up, I wanted to live in Mayberry. Part of me still does. I grew up on TV from the 50s and 60s, and while I adore I Love Lucy, Gilligan's Island, The Munsters, and many more, its The Andy Griffith Show that sticks with me the most. While many of the towns folk are infuriatingly stupid, Sheriff Andy Taylor (played by the recently deceased Andy Griffith) was always there for them. He was, in my opinion, the best father figure ever to be put on the small screen, and Don Knotts as his deputy still makes me laugh despite having seen every episode a million times. However, avoid the later seasons that ditched Knotts and went color - they aren't funny at all.
9. Spaced
I only first saw this show last year, and oh how it made me laugh. Simon Pegg and Jessica Stevenson star as a couple of hapless losers who pretend to be a couple so they can rent a two bedroom flat. Sounds like your typical Three's Company type sitcom, but in the hands of Edgar Wright the show comes alive. Filled with comic book, movie, and video game references that should have any nerd in fits laughing, Spaced is worth a look. It ended after only two seasons, which makes it one of the few shows on this list that doesn't wear out its welcome.
8. Doctor Who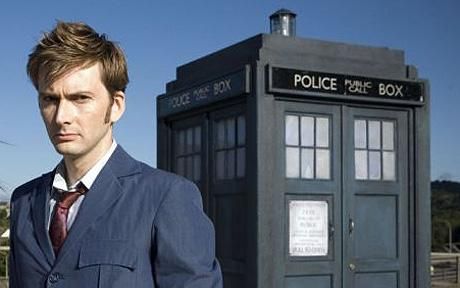 I'm talking specifically about the David Tennant years. I also enjoyed Christopher Eccleston's Ninth Doctor, but it was when Tennant took his place that the show became addictive TV for me. As with Star Trek, I'm not an expect in Doctor Who lore. I've tried to watch the old Who shows and can't get into them, nor can I get into Matt Smith as the Eleventh Doctor. I know he has his fans, but to me he's too mean and snippy. Tennant played the Doctor like a charming character out of a fairy tale - a man from the sky who drops in and whisks you away to far off adventure. However, underneath his manic performance and constant smile there was such a darkness, such a bottomless sadness, that despite his charms his Doctor scared me a little. Its one of the best performances I've ever seen an actor give, on stage, screen, or television.
7. Are You Being Served?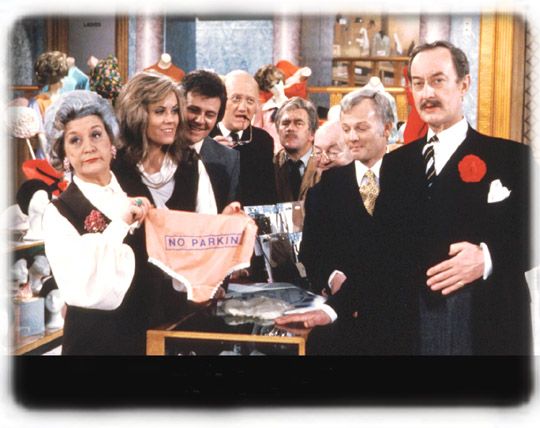 This cheeky British comedy was always the highlight of my week when I was a kid. It came on PBS every Friday night (unless they were having a damn pledge drive). I used to sit in my kitchen and watch it on the little TV, which was the only one in the house that picked up PBS well enough so that I could enjoy the show. I'd have a snack and howl with laughter at the exploits of the Men's and Women's department at Grace Bros., a second rate department store run like an army unit by the floor walker, Captain Peacock. While the show suffered a drastic decline in quality and constant downgrades in the cast, the first three seasons are still some of the funniest TV I've ever seen.
6. South Park
Yes, I love South Park. I know I give Matt and Trey shit a lot, but the truth is they created one of the funniest animated series of all time. While fellow 90s cartoon Beavis & Butt-head ranks high on my list as well, South Park beats it by being so re-watchable. I've seen every episode a dozen times and yet they never fail to make me laugh. However, I usually stick to the first three seasons, or as I like to call them the "innocent years." I found Stan, Kyle, Cartman, Kenny, and all of South Park's twisted citizens far funnier when they weren't carrying the weight of Matt and Trey's "message of the week." However, the show still managed to knock at least half its episodes out of the park up until around season 10, an accomplishment I can't help but marvel at.
5. Seinfeld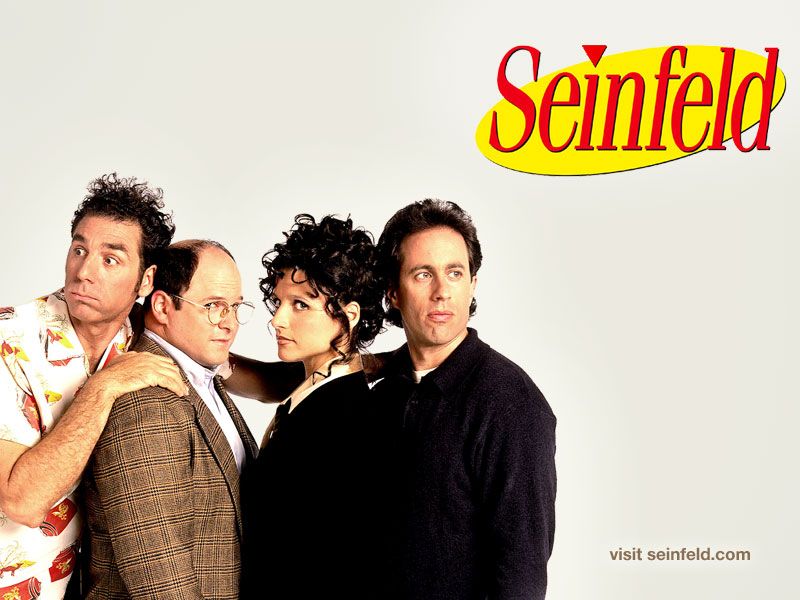 Have I mentioned that I grew up in the 90s? Yes, that decade suffered from a drought of quality programming, with every other show resembling Friends. However, Friends was pretty much a rip off of the far better Seinfeld, a classic comedy set in New York that sprang from the imaginations of stand up comic Jerry Seinfeld and writing partner Larry David. Featuring the best comedy team ever put on television in Jason Alexander, Julia Louis-Dreyfus, Michael Richardson, and Seinfeld himself, this iconic show glorified the trivial without sentimentality (a key factor Friends lost sight of), and added new words to our language. The first and last seasons are both duds, but everything in between is "gold, Jerry! It's gold!"
4. Batman: The Animated Series
Who did Batman better, Burton or Nolan? ...Neither, the answer is Bruce Timm, who gave us the definitive screen version of Batman with this after school cartoon. Instead of giving us a silly Super Friends experience, TAS borrowed from Burton's playbook and gave us a dark, noir influenced Caped Crusader and edgy story lines that pushed the boundaries of what a kids show could be. With classic takes on all of Batman's rogues, including an unforgettable Mark Hamill as the Joker, TAS has stood the test of time and given us not just one show, but a lineage of shows - Superman: The Animated Series, Batman Beyond, and Justice League Unlimited.
3. The Simpsons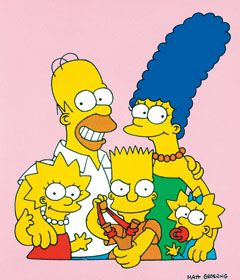 This show hasn't been funny for well over a decade. Some say The Simpsons over stayed it's welcome, and now that its about to enter it's 24th season the show is clearly a senior citizen. However, I don't like the idea of a world without The Simpsons. I was 9 when the first episode premiered in 1989, and 7 when the shorts were aired on The Tracy Ullman Show. The Simpsons have been a part of my life for as long as I can remember, and those first five seasons are still some of the funniest TV I've ever seen. While Family Guy and American Dad may make me laugh harder, they lack characters that I truly care about. The Simpsons felt like family, and Springfield was teaming with people who began to feel real to me. Personally, I think the show would have benefited from allowing the characters to age. Seeing Bart become a dad, Lisa go to college, and Maggie grow up would have kept the show fresh. Instead we got Bart's first day of fourth grade - 20 times. The show has become more about celebrity cameos and stale jokes, but in its first decade on the air The Simpsons produced some of the most hilarious and heartfelt television ever made.
2. 30 Rock
I can already feel some of you shaking your heads. "30 Rock above Simpson's, Batman, and Seinfeld! What are you smoking?" While its true that 30 Rock is, in many ways, not in the same league as many of the shows on this list, there's one reason it ranks so high in my opinion: Rarely a day goes by that I don't watch one, and I laugh every time. I've literally been watching the same episodes over and over for years now, and they never fail to cheer me up. This show is comfort food for me. While Tina Fey deserves much of the credit for not only playing the lead of producer Liz Lemmon but for also creating and writing the show, its Alec Baldwin who steals the show as Liz's ultra conservative boss. That Baldwin can say such over the top, ridiculous lines with such a straight face ("We Donaghys believe that when there is something at all delicate to talk about it is best to suppress it...until it erupts into a fist fight at a church barbecue") slays me. If you haven't checked it out yet, head over to Netflix and prepare yourself for the final season, which starts in September.
1. The Twilight Zone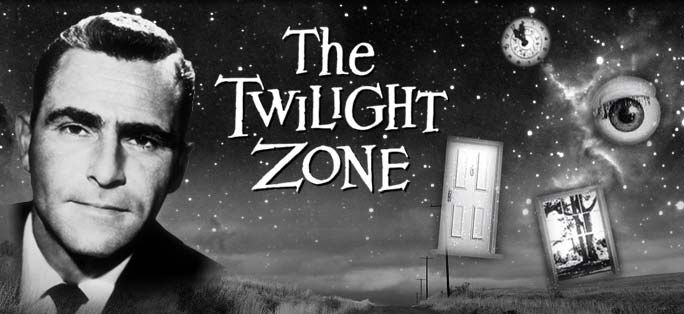 I admire a lot of writers, but few have influenced me as much as Rod Serling. It was through watching The Twilight Zone as a child that I realized that horror and science fiction didn't have to be about blood and scares, it could also carry with it deep social commentary and tell us something about ourselves. What Serling did with Twilight Zone was hold up a mirror to 1960s society. He showed us our prejudices, our destructive nature, and sometimes our capacity for good. The stories always had a delicious twist ending, and the acting from such heavy hitters as William Shatner, Robert Redford, Robert Duvall, and the brilliant Burgess Meredith (who starred in my two favorite episodes - Time Enough at Last and The Obsolete Man) is always top notch. While the show had it's share of clunkers, when Serling and company hit the ball out of the park there was nothing better ever seen on television.