A disclaimer before we proceed: I am an Alec Baldwin fan. His cameo role in Glengarry Glen Ross is one of the most thrilling bits of acting in any movie from the last half century. His supporting role in The Cooler takes an otherwise forgettable movie and makes it a must-see. Finally, his portrayal of Jack Donaghy in the last six seasons of 30 Rock has been, for me personally, the finest acting to ever grace a sitcom.
That said, the man is undoubtedly flawed. His temper is legendary, and he doesn't know when to shut his mouth. If there's such a thing as being "too honest," Baldwin falls into that category. Others might criticize his politics...ahhhhhLESchew! Oh, excuse me.
In a recent Vanity Fair article, Baldwin said he had fantasies about murdering his ex-wife's lawyer with a baseball bat and about "gutting" TMZ producer Harvey Levin. As far as Levin is concerned, I think there are few celebrities in Hollywood who would begrudge Baldwin those feelings. Levin is a parasite, a piece of rancid fecal crust not worthy of being called human. He makes his living exposing peoples ugliest moments for all to point at and mock, and Baldwin is a frequent target.
As for his ex's lawyer...listen, I'm divorced too. My ex-wife's lawyer was a smarmy bitch who sat across from me and baited me for weeks, daring me to raise my temper as she took subtle (and not so subtle) jabs at my ability to parent. Baldwin's baseball bat fantasy is small potatoes compared to some of the thoughts I had about that woman.
Its funny that this story happened to come out just now, as I only recently finished reading a book Baldwin wrote called Promises to Ourselves: A Journey Through Fatherhood and Divorce. I saw it at the library and picked it up, and a week later I'd read the whole thing. Its been years since I read a book so fast. What was the big draw? The book deals with going through an ugly divorce inside the Los Angeles family court system, an ordeal I'm all too familiar with.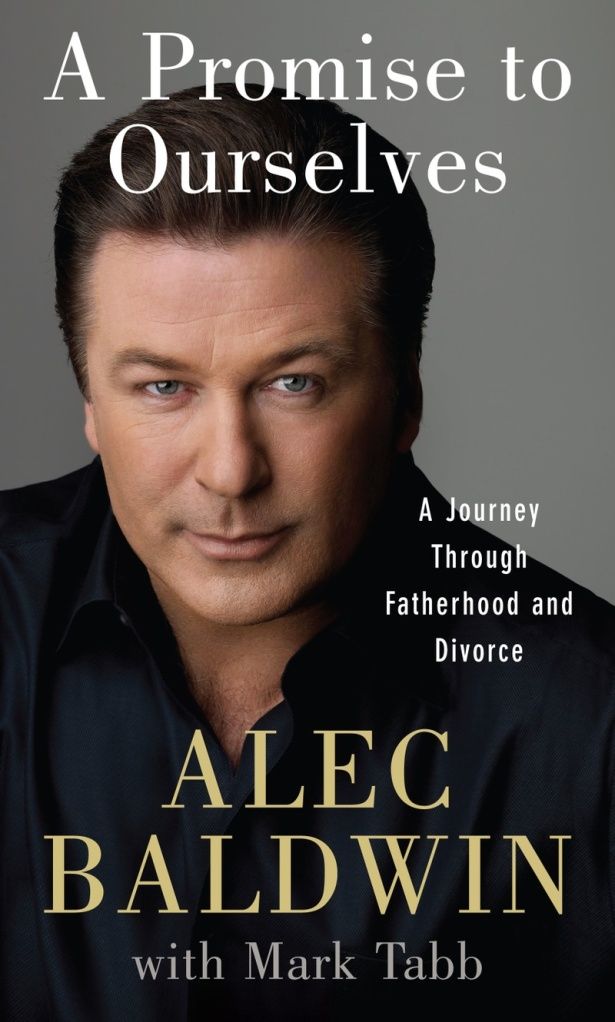 My divorce was grotesque and never ending. Like Michael Corleone, just when I thought I was out they'd pull me back in. It took seven years and roughly $40,000 (that was just my bill, I have no idea how much my ex's family paid out) to finally settle the custody issues.
I've been hit by a car, ladies and gentlemen. I nearly died that day, and I never lost consciousness. I remember every agonizing detail. ...That's a fond memory to me compared to my divorce.
I've said before that the family law system in this country is broken, but reading Baldwin's book really brought it home. To read about these familiar scenarios happening to Baldwin - the false accusations, the inept judges, the corrupt lawyers with dollar signs in their eyes - was surprisingly comforting to me. "It didn't just happen to me!" I thought. "It can even happen to someone who is rich and famous!"
Lawyers are the primary target in Promises to Ourselves. They are presented as corrupt, money hungry vultures, who work together to drag out the ordeal to maximize their profits. I can attest to this fact. I mentioned my ex-wife's lawyer, but those that represented me were no better. I went through three lawyers, hoping each time that I would find one who would stand up for my daughter and myself. I wanted a noble, movie lawyer. I never found one.
The lawyers run the family court racket. They set the rules, and the judges know better than to get in the way. Baldwin describes an instance in his book when his ex-wife's lawyer admitted in open to court to advising his client to defy the judges visitation orders. The lawyer wasn't even admonished. There were no consequences. Why? Because judges retire from the bench and go on to become mediators. Who picks the mediator? The lawyers. You thought Washington politicians who make policy in favor of corporations and then go on to work for those corporations were corrupt? That's nothing compared to a family court judge.
Lost in this polluted sea are families, especially the children. The last thing anyone in the family court machine cares about are the children. Lawyers don't care what damage will occur when they turn a child's parents into mortal enemies. I've seen instances of responsible parents being forced to share custody with deadbeat, drug addicted parents. I've seen responsible fathers punished for their ex-wives inability to be responsible. Sitting in waiting rooms outside of a courtroom, I've heard fathers tell me they are desperate to be a part of their children's lives, but the lawyer bills are more that they can take and their ready to call it quits on their kids. People who go through divorces often times come out with something close to Post Traumatic Stress Disorder, their lives shattered forever.
So here's my advice, from someone who has been there: GET A PRENUPTIAL AGREEMENT! I know, I know, "I don't need one. I love this person so much, we'll be together forever, blah blah blah." Maybe you will, but there's a 50/50 chance you won't. Here's what you're not thinking about: That person you love so much, who you trust with your heart, might one day have reason to hate you (or think they have reason to). Do you really want them being the chief witness against you? Do you really want them taking you on your worst day and using that brush to paint you with?
In this prenuptial agreement, demand that before any custody decisions are even discussed you must both go through a psychological exam, and that you both agree that custody shall be determined by an impartial therapist who will make the decision based on what is best for the child.
"But James," you may ask, "what if my fiancé refuses to sign a prenup?" Dump them. I'm not kidding - dump them now. If the person you plan to marry refuses to sign a piece of paper that will protect you from their wrath, that means that somewhere in the back of their minds they're thinking, "You better treat me right, because I will bury you in court if you don't." Dump them. No joke.
A final note about Baldwin: He does address, in his book, the incident where he phoned his daughter and left that horrible voice mail for her. He takes responsibility for that. He says it was born out of frustration. He was supposed to have phone access to his daughter, but his ex-wife would simply turn off the phone. After ten days without talking to his child, he snapped. He wasn't really angry at her, he was angry at his ex and he took out that frustration on the wrong person.
Was Alec Baldwin wrong to lose his temper at his child? Yes. But I've lost my temper at my kids. There isn't a parent alive who hasn't said something horrible to their child and regretted it. Most parents don't have to deal with that mistake being leaked to TMZ by their ex-spouse. How would you feel if the whole world saw you on your worst day?