"If you can't get behind our troops, feel free to stand in front!"
I saw this bumper sticker outside a Home Depot recently. I'm so glad that the woman who drove this car saw me read it. She was looking right at me. She saw the sickened look of utter disgust I had on my face, and whether she felt a moral superiority to me because I didn't agree with the unbelievably offensive statement she was sporting in her windshield, or whether she felt a slight twinge of embarrassment, I don't know. Doesn't really matter. I just wanted her to know that I disapprove, and despite what she thinks should happen in her perfect little world, I'm not going to get shot for my opinion. Not yet at least.
So this is a hard subject for me to talk about. There are few subjects that I would be truly worried to broach, but this is one of them. I even debated whether or not I should post this article, because as "site owner" of Manic Expression, my actions could lead to consequences for the entire site. What convinced me to speak up, aside from my faith in all of you, was the realization that by not posting my honest opinion here I would be short changing the core concept of Manic Expression: A place to express yourself without fear of attack. This site means too much to me to allow fear to undermine my faith in it.
Okay, here we go: I am not of the belief that service in the military is a virtue unto itself. What I mean by that is, I do not believe that joining any branch of the armed services makes you a good person. Sorry, but I do not give a blanket pass to soldiers and say, "You're all so wonderful and I appreciate everything you do." I have always been of the mind that a uniform does not show me what kind of a person you are on the inside, and I feel very uncomfortable with the fact that we in the United States have bestowed upon "the Troops" an infallibility that, if questioned, immediately makes you a traitor to your nation.
I know I'm in the minority here, and as such I'm forced to keep my mouth shut about my opinions most of the time for fear of alienating people or, in some cases, being threatened. I once made a comment on YouTube in regards to a video that didn't cast the military in a good light. I got death threats. One person literally wrote me an email saying he would hunt me down and kill me. He said (this is a quote), "Those boys fight to keep you free, and if you don't appreciate what they do for you you should get a bullet between your eyes."
Now let me say that I am not anti-military. I understand the sad reality that the military is necessary. My grandfather fought for the British army during World War II, and I'm proud of that. I myself would never join the military, but I'm not suited for it. The reasons I'm not suited for it constitute many of my biggest problems with the armed forces. I'm not afraid of exercise. I loaded trucks for a living, which is grueling, hard work. I don't like being screamed at, but being raised by my mother I learned to deal with it. Its the macho attitude, the air of superiority, that bothers me about the military. Not only does it bother me on a personal level, but I'm becoming increasingly aware of the fact that its an outdated model that simply isn't working any more.
The easy subject for people to get behind is military suicides. I read an article last month in Newsweek that said more troops have killed themselves in the last decade than have died in Iraq and Afghanistan combined. We have a generation of people coming back from these wars with severe Post Traumatic Stress Disorder. They are coming home and needing to be medicated, they're ending up homeless or in jail, they're violent toward their spouses and children, and their killing themselves in record numbers. Its an epidemic that everyone can get behind: Get these people help.
But there's another epidemic that no one wants to talk about: Military rape. Did you know a servicewoman is far more likely to be raped by a fellow solider than she is to die in combat? Insane numbers are coming out all the time about this phenomenon. Half a million women have been sexually assaulted while serving in our armed forces, and that's just the women that have come forward. The numbers are believed to be double or even triple that. In 2009 alone, 16,150 women were sexually assaulted while serving in the military. Again, those are just the women that came forward.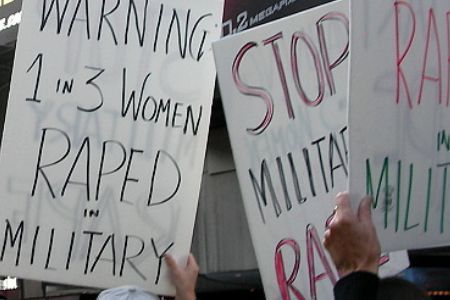 Men aren't getting off any easier, by the way. In 2010 alone, more than 50,000 men serving in the military screened positive for military sexual trauma. Again, this is thought to be the tip of the ice burg. And by the way, I didn't get these numbers from some "pinko liberal" website, I got these numbers from the Department of Defense.
What is the military's response to this? Well, a federal court decided that sexual assault in the military must be deemed "incident to service." What does that mean, you may ask? Basically what it means, what a federal court is saying, is that, "hey, if you sign up to join the United States military, shit happens."
There's a new documentary out called The Invisible War, and while I have yet to see it I will say that this is about the bravest movie anyone has made in years. Why? Because its talking about military rape, about the culture that fosters it and excuses it and covers it up. Why is this so brave? Because no one wants to talk about this subject. Everyone is so enraptured with "the Troops" that they believe even acknowledging these shocking statistics is unpatriotic.
No sane person approves of rape, and no decent human being would ever excuse it by blaming the victims for their attire or for any other reason. Rape is rape, and we all feel bad for the victims of rape. However, when its military rape we run into a conflict of interest. You see, if a minimum of 16,150 women and 50,000 men are being raped in a single year, you can't blame that on "a few bad apples." We aren't talking about a dozen sick puppies carrying out these crimes. We're talking about a significant number of men in our armed services who are rapists. Is it the majority? Probably not, but its enough that it should raise alarm, and people who blindly support "the Troops" don't want to hear those alarms.
The problem with giving unquestioned respect to someone just because they chose to serve in the military is that there are lots of bad people serving in the military, and they do bad things. Now this is true of every profession. There are good lawyers and corrupt lawyers. There are good teachers and incompetent teachers. There are good baristas and rude baristas. Here's where the military is unique: They have guns. They have missiles. Lives hang in the balance when they make a call. People with that kind of power cannot be given blind, unquestioning loyalty. We must examine these men and women on an individual, case by case basis.
Look, this isn't about politics. I have my opinions about the wars we've fought in the last decade, and the behavior of many of the soldiers that have served in the Middle East. That's not what this is about. Many people don't care what an American solider does to an Iraqi or an Afghani. Should they? I think so, but that's a separate debate from this one. This is about Americans raping and sexually abusing other Americans. I would like to think that we could all look at that objectively and say, "Soldier or not, this is wrong and something needs to change."
And by the way, one final thought. As I said, everyone wants to help vets coming home with Post Traumatic Stress Disorder. Hell, I'm all for it. Get these people the help they need. That said, how many of the 16,150 women and 50,000 men sexually assaulted in just that single year do you think had PTSD afterward? How many killed themselves because they were raped? These are not separate issues. You want to support the troops? You should support radical change in the United States Armed Forces. Tradition should not be an excuse for keeping alive this system that is clearly failing those serving their country.