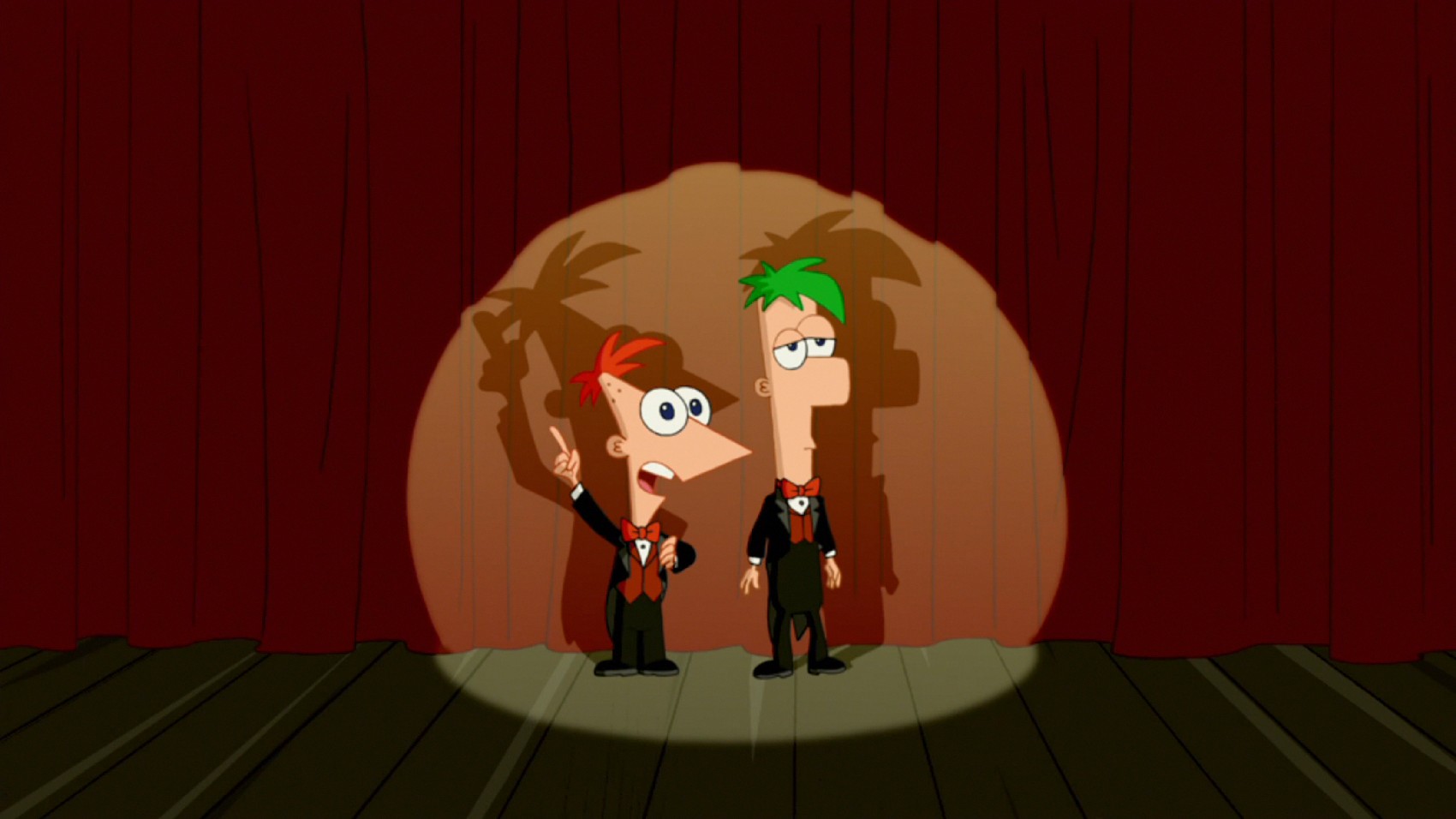 Last time in out Escape from Jason and Lindgren Tower.... fusionater was kidnapped by Jason on the House and Lindgren to join their countdown for best Phineas and Ferb songs and episodes, and during the fusionater's attempts to escape they end up in a room full of tinfoil....

Fusionater is lieing in a bed for an unknown reason. agh!
Slam!!!
Door opens
Jason: GET UP!!!, we have a list to make!
Fusionater: No, I won't do it!
Jason: Lindgren, get him.
Lindgren performs complex chi based maneuver to knock out Fusionater. Fusionater wakes up tied to a chair back in the tin foil room.
Fusionater: Why did you put me back in HERE!?!? It's friggin hot in here!
Jason: Punishment for your escape attempt.
Lindgren: Why do we have to punish ourselves too in this room again?
Jason:  Um...moving on! It's list time!!!
Lindgren: It's indeed really hot in here. What's the point of filling the room with tinfoil?
Jason: Each room is a tribute for each Phineas and Ferb episode. This is probably the room for the very first episode, the musical version of it, and a time-travelling episode taking place in same time period.
Lindgren: Okay, speaking of episodes, let the countdown to the best Phineas and Ferb episodes BEGIN! Um, fusionater, what are you doing?
Fusionater: Picking up some metal trashes and magnets. Got any problem with that?
Lindgren: No. Just curious.
#7


Fusionater: The Chronicles of Meap Character commentary
I know I'm cheating a little with this one, but it's my list!!! The commentary is done by characters major monogram and Doofenshmirtz, interestingly voiced by the shows creators. The reactions to how the episode plays out are just priceless, and I think they are even better than the already amazing episode that The Chronicles of Meap is. It shbould be noted that Major Monogram and Doofenshmirtz play off eachother very well, and I wish it was done more often in the show.
Jason: I will forgive you for having a wicked trick of choosing this episode and telling me to guess it with three poor hints! Anyway, good choice! My favourite scene is where Monogram says "Ouch!" when the alien Meap ripps the mustache off Mitch.
Lindgren: It's tremendounsly a lot of fun listening to my favourite characters (Besides PF) talking about the episode and their reaction to every single thing! Too bad Doofenschmirtz doesn't like Ferb, who has a crush on Vanessa.
Lindgren: That Sinking Feeling
This episode has so many "cuteness". Baljeet's friend from India, Mishti, visits him, and he's shocked that she is now a "girl" in a skirt.
Phineas: Isn't it, like, sugar and spice and everything nice?
Baljeet: That is what they are made of. I do not want to build one. Duh!
Phineas suggests a romantic cruise, inspired by Titanic. It's so adorable to see Isabella mistaking the romantic cruise and the dinner just for her by Phineas, and becoming grumpy. The captain attire and the suit fits Phineas and Ferb so well. While Doof wants to move the lighthouse to the other side of Danvile, since it attracts boats and can't make him fall asleep. The funniest thing I rember from this ep is when Doof is disappointed kicks Perry out of the room when Perry broke the Danvile model he carefully built overnight, because Doof thought Perry will appreciate his effort.
Fusionater: Ah powerpuff girls, even Phineas and Ferb references them.
Jason: Besides that, it has so many other brillaint lines. "Do I know romance or what" "What.", "Hey, everyone, I'm wearing a diaper!"
Jason: Misperceived Monotreme AND Does This Duckbill Make Me Look Fat? (tie)
An ordinary platypus is mistaken for Agent P, it has one of the funniest scenes I've ever seen from Phineas and Ferb. When a sandwish cart falls over, throwng sandwiches all over doof's lair, the ordinay platypus starts defeating him, by trying to eat all of the sandwiches. "What's the matter Perry the Platypus, don't they feed you at the agency?"
For the second episode, the invention of Phineas and Ferb makes Candace and Perry switch their brains. Perry goes to fight Doof in Candace's body, while Phineas sets up an ugly poster of Candace to find Perry. Candace yells and demands to change her back, because Jeremy is coming soon. It was very interesting to see the expression of Perry in human's face, but I think his original platypus's face is much more effective for expressing his emotions. What's very funny is that both episode confirm why I hate Candace so much. She has simply no depth in these episodes, and seems just selfish and despicaple, by doing everything to get a man's attention.
Fusionater: Oh my god I remember these episodes! Had our lists been SLIGHTLY longer, they would have made mine, great choices, Jason! 
Lindgren: Hm? What's young Drakken doing there in Phineas and Ferb? Anyway, both episodes have a lot in common and I can see why you put them together. Monobrow and Carl sitting together and watching the "Agent P" fighting Doof in live was so hilarius. They should do a character commentary one day!
#6


Fusionater: Undercover Carl
Fusionater: In this episode, Doofenshmirtz downloads one of Phineas and Ferb's plans online, so they are suspected of working with him. Because all the field agents of O.W.C.A (the organization without a cool acronym) are on duty, Carl the intern goes undercover as a friend of theirs. He soon begins to have fun, and in a pricelessly hilarious misunderstanding, major monogram thinks he's in trouble, and thus orders numerous swat cars, helicopters and such to the scene(only to abort the mission just in time). This episode is an absolute must see for anyone who enjoys comedy.
Jason: This episode was so hilarious. I'm glad Carl didn't developed into an annoying sidekick!
Lindgren: I totally agree with Jason that Carl didn't end up as an annoying comedy relief. My favourite part of the episode was when Monogram appears as Carl's "dad" to pick him up from the mission, and there is an awkwardness overload!
Fusionater: Especially funny when all the kids say, "Hey Carl's dad!"
Lindgren: Out to Launch
You know, Doof could have easily taken over the world if he wasn't to distracted by his countless childhood stories. This time he wants to play shadow puppet on the moon for Huge Hands Hans who took his girl away by poor puppetry. Anyway, Phineas' and Ferb's dad bought a right to name a start after his sons, and they want to visit it by building a rocket ship. There are tremendous amount of space film parody including he dramatic, vapor filled walk Phineas and Ferb take while boarding the rocket, and Star Wars parody goes without saying. The montage of building the rockets using live-action footage along with cute, light, and jazzy music is my favourite part. There are several Phineas and Ferb episodes of them going to space, yet I think this is the best one.
Fusionater: A simply fantastic episode, with one of the best perry jokes in the entire series. I'm not gonna tell you what it is though, go watch the episode. now.
Jason: Best Phineas and Ferb episode taking place IN SPAAAAAAAAAAAAACE! Oh, except for my #2 episode.
Jason: Finding Mary McGuffin
This episode completely changed my thinking about Doctor Doofenschmirtz. Ever since his daughter said she wants a Mary McGuffin doll, and he has been searching for ten years. He finally gets the doll from PF's house's yard sale, and Vanessa is touched by this present and thinks that maybe her dad is not so bad after all. Candace finds out her McGuffin doll is missing, and asks for the help of PF who is coincidentally mocking old black-and-white detective films. This episode was a lot of fun with great references and parodies; however, Vanessa's and Doof's relationship between each other was the best. This is one of the rare episodes we see the family relationship between characters, and I am so glad that we can see the other side of Doof.
Fusionater: For your number 6. I don't think there has been a truly better Vanessa episode in the series.
Lindgren: Finding Mary McGuffin: So many memorable things including CSI Miami reference, a really, really good song, and finnally a glimpse of Doof and Vanessa's relationship. We don't usually get to see the relationships in THIS depth, and it was so touching. Also Ferb playing saxophone beside Phineas whle parodying old detective films was a really, really nice touch.
#5


Fusionater: One good scare
This episode is just so wonderful! I love it! *calms down a little* ok, so Isabella gets hiccups, and Phineas wants to help her, so they choose the scare the living s*** out of those hiccups(that'l teach em), by building a haunted house! I LOVE HAUNTED HOUSES!!! WOO HOO!!!! They than proceed to sing one of the greatest songs in the show, only for it not to work...oh well. Candace later ends up in the house of horror, and is terrified by it! Theres also this subplot with candace at jeremy's before she gets there, but who cares! HAUNTED HOUSES!!! This episode is a fantastic halloween special, with great gags(not really all that scary if that's what your looking for).
Jason: Did I tell you that I adore that fact he doesn't let go of Isabella's hand throught a while musical sequence?
Fusionater: Many, many times.
Lindgren: What can I say? It's a fabulous Halloween episode with great, great visuals.
Lindgren: Traffic Cam Caper
To my knowledge, this is only Phineas and Ferb episode taking place during night, and I loved the idea a lot. There are as much business as during the day, so we have a very unique atmosphere surrounding this episode. Candace finds out that the CD in the traffic cam contains all of the recordings of Phineas and Ferb's inventions that mysteriously disappeared. Meanwhile, Perry is ordered to retrieve the same CD, since it also has the footage of Perry doing his mission as a secret agent. He borrows a robot Norm from Doofenshmirtz in the middle of the night. (That scene is very hilarious.)
Fusionater: I hate how Candace actually has to stop and think about whether she should save phineas or the disk, this is a low moment for her character.
Jason: I agree. And Phineas looks espeically cute and small in this episode. There is a scene at the end that uses  look-a-like mask, and it was quite memorable. I can understand people in cartoon world always deceived by the look-a-like mask, but it gets silly when it goes to live action films. *cough*Mission Impossible*cough*
Jason: My Fair Goalie
When Ferb's cousins visiting from England challenges him to a soccer match, Phineas and Ferb constructs a formidable 3D stadium with high technology. I am excessively fond of British accent, and I was genuinely delighted to listen to true British accents instead of miserable mockery.
Fusionater: This is an awesome episode for Phineas and Ferb, all those lame british kids were saying, IT'S IMPOSSIBLE!!! And they build it in like 5 minutes.
Lindgren: Ah, yes, my dear. This episode was truly delightful in observing Ferb much more than we used to in other episodes. In addition, the British accents impressed me very much... You know what? I can't do it. My vocabulary has run out.
#4


Fusionater: Escape from Phineas Tower
With this episode, which this blog totally isn't parodying, Phineas and Ferb builld a tower designed to trap you forever, which they attempt to escape. The tower is hit by Doofenshmirtz Rudinator, which causes it to become, for lack of a better term, rude. The tower is now trying to kill Phineas and Ferb in the most creative ways possible, and when they do escape, the tower says, "I'm not done with you yet" and proceeds to trap them in a bubble. And than starts to suck the Oxygen out of it! OMFG this is scary danger. Batman barely got out of a trap like that once! But they trick the tower, save the galaxy, and enjoy there elbow room, want to know how? Go watch the episode.
Jason: This episode is so clever and I think it's a great homage to escaping scenes we have seen in classic novels and films. Awesome choice!
Lindgren: We mostly saw Phineas building something from blueprints, yet this truly shows their brillance and intelligence for solving tasks (or life-threatening situations caused by an extremely rude tower) It's funny that Candace does nothing but sleeping the whole episode. LOL.
Lindgren: The Monster of Phineas-n-Ferbenstein
Phineas' and Ferb's grandfather tells his grandchildren the story of their ancestors (who look exactly like our characters) building a giant platypus monster to enter a Monter Contest. Although we are talking about something that happened long, long time ago, it's funny that we still have the exact same plot. The experiments scene are actually quite scary in a Gothic castle. Meanwhile, Doof can't do anything to Perry becase the electicity is out, and decides to tell Perry a story about this ancestor, Jekyll Doofenschmirz, and the only difference is the sideburns that make Jekyll much more handsome. The names have changed to old ones, such as Jeremiah and Constance. There are some clever modifications to the original plotline, such as Constance trying to bust the kids by telling the angry "mob". It's so funny finding the equivalents of our modern counterparts, and this is a Halloween episode I would recommend to anyone.
Fusionater: Ah yes, all villains would be stopped easily if the power just went out more often.
Jason: #4. I love how Perry always intently listens to Doof when he tells stories. It's a great Halloween episode. Nice choice!
Jason: A Hard Day's Knight
Did I tell you that I love British accent so much? But this time I'm not going to show off my knowledge in Old English, since you'd have a hard time deciphering it. Phineas and Ferb hold a medieval tournament, when their grandfather tells them the tale of the Black Knight of Worcestershire. Meanwhile, Agent P disguises as Dr. Evil Wexler to see what Dr. Doofenshmirtz is up to in EvilCon. This episode is just hilarious, for both Phineas's and Perry's part. It turns out Dr. Wexler is Doofenschmirtz's role model, thus it's so funny to see Perry being so nervous when Doofenschmirtz begs him to read a part from Dr. Wexler's book. They at the end have a robot battle. Here's what Doof says: "Well, yours (Queen Elizabeth II) may have laser eyes, but mine (dragon robot) BREATHES FIR?AAAAAAAAAAAAAAAAAAAAAAAAAAAAAAAAAAAAAAAAH! That was a stupid design."
Fusionater: I loved the image where Doof was holding a teddy bear with his I love evil hat on! It was just amazing!
Lindgren: Aww... Doof carries a teddy bear inside his lab coat! I love how his dreamy and childlish gaze is shattered when he finds out Perry was disguising as his hero. What did Phineas and Ferb do in this episode again? Hey, where's fusionater?
fusionater's chair is empty. Jason and Lindgren spring from the chairs and look round, just to see a glimpse of fusionater's feet escaping the door.
Jason: Get him!
Scooby Doo chase music is played. Jason and Lindgren pass through hundreads of Phineas-and-Ferb-themed rooms.
Through the cow-filled room,
Past the cave of doom,
Stops to pick up frankenstein's brain,
gets on the rattled train,
and heads for drueselstein!
Fusionater: You have a lot of random shit in your tower Jason!
Through evil incorporated,
Past detectives who seem very dated,
Down the swirling slide
past the rollercoaster ride!
Fusionater: Hey, this is fun!
Making a quantum leap, 
past a thing says meap
Taking a rest in the backyard!
Riding a monster tuck,
past a girl dressed like a DUCK!
Meeting the robot norm,
who wants you to conform
Fusionater: This is all very strange!
Taking part in a musical,
riding a mechanical bull
Life is just never dull!
Things just seem out of toon
Just like an unpainted sand dune
Than suddenly in the middle of winter...wth...guys what is this place?
Jason: I'm not sure...
As you can see there's a whole lot of stuff to do in this weird ass tower,
So stick with us because Jason and Lindgren now have the power!
So stick with us because Jason and Lindgren now have the power!
Fusionater is dragged back to the tinfoil room.
Fusionater: Oh come on!!! It's way too hot in here!
Meanwhile, outside of Jason and Lindgren tower.
Les: Huh, so I've got to help keep fusionater trapped in here? Well THAT SUCKS!, he used to be an all right guy!
He walks in and looks around.
Les: Is that a giant piece of cheese? Are those mechanical bulls? Why are there pictures of shoelace strings everywhere!? That does it! Les is out! Peace!
#3


Fusionater: Dude We're getting the band back together!
Let me sum this episode up as simply as possible. 4 amazing songs. Touching plot. Fantastic jokes. And an explosion.
Jason: There are so many memorable moments Doof's eager preparation for Vanessa's birthday party she wouldn't appreciate, homage to musics at that period, and Cadance is not crazy about busting her brothers!
Lindgren: I just LOVE everything from this episode. Great choice!
Lindgren: Phineas and Ferb: Summer Belongs to You!
I will summarize this episode with five things: Phineas saying: "Look! A sponge and a starfish! There's gotta be something we can make out of this! No, that's ridiculous.", Around the World in 80 Days theme, sad story of Ferb's cruch on Vanessa, baby Phineas, and finally the great finale song, Summer Belongs to You.
Fusionater: Ah Phineas, will you ever stop conquering the impossible? No, no you won't.
Jason: Yes, I knew this would be here. Poor Ferb. In the finale, Candace and Jeremy kisses, Phineas an Isabella dance while holding hands, and Ferb is the only one alone. *sniffs*
Jason: The Remains of the Platypus
This is the craziest episode I've ever seen. This episode goes BACKWARDS. We are shown a series of crazy events that we simply cannot understand, and we are shown what happend in the reverse order, ending at the beginning of when everything started. Doof is seen in his underwear the whole time, Perry is his butler, and Major Monogram has swollen up like a bread dough, as people runs out of Phineas' and Ferb's Cheesetopia. Just watch.
Fusionater: This episode was sort of meh for me, could have been Doof in his underwear...but who knows?
Lindgren: Insane. Just insane. I don't know whether is good or bad, but it was definitely insane. Did I tell you that this episode is insane? We even have a song for A HAT!
#2


Fusionater: Brain Drain
In this episode, Phineas, Ferb, Isabella, and Baljeet are all in bed do to sickness(with Buford Joining them out of laziness). They compensate for there lack of capability by playing video games!!! Meanwhile, Perry goes to stop doofenshmirtz and when he arrives, doof manages to get a mind-control helmet atop his platypus head. He has Perry commit such heinous acts as stealing a cart from a parking lot, and, disturbingly, making him pick up sidewalk gum, put it oh so close to him eating it, than setting it back down and repeating the cycle. (Perry's a germaphobe)
Towards the end of the episode, a power surge causes phineas and ferbs game to change to controlling perry the platypus, with a nearby camera providing view, they assume it's the boss battle, and proceed to whoop doofenshmirtz. This episode is so hilarious that it's difficult to put it into words. All I can say is that you should go watch it.
Jason: Doof is absolutely childlish at this episode! "Eat that gum on the sidewalk!", "Why are you hitting yourself? Why are you hitting yourself?" Perry's germaphobe expression is priceless, and I died laughing.
Lindgren: The song There's a Platypus Controlling Me alone makes this episode so enjoyable. This episode is the most hilarious one I have ever .... HAHAHA! PLEASE! DON'T LET ME GO INTO ANOTHER LAUGHING FIT! HELP ME! HAHAHAHAHAHAHAHAHA! *carried away by the doctors*
Lindgren: I, Brobot
Phineas and Ferb decide to build robots to assist with their plans, but the robots start to make their own plans and even build an overpriced coffee shop which makes them rebel to Phineas and Ferb (and cannot go to sleep. One of the robots is actually in bed, checking the watch every second). Meanwhile Doof wants to delete the embarassing messages he left in his girlfriend's home my using a giant magnet. The whole episode is just hilarious with priceless scenes. My favourite is when Perry gives a brillaint smile whenever he sees a Santa. He is distracted by the Santa and point at him when Monogram says Doof made more than seventy phone calls to someone.
Fusionater: WE LOVE YOU SANTA!!! But seriously though...it is the middle of July...
Jason: Perry's smile is priceless. We love you Santa!
Jason: The Chronicles of Meap
This is another hilarious episode with the funniest backstory of Doof. He one day won a balloon, drew a creepy face on it, and made him his best friend, until he lost it when he was guarding his house's garden, dressed as a lawn gnome. Meanwhile, Phineas, Ferb, and Candace meet an adorable alien called Meep. Ferb fixes his spaceship and show all of his COOLNESS to Vanessa when he shoots into space in the spaceship. It had so many hilarious things that I can write forever, Interesting thing is that the episode's commentary by Major Monogram and Doof was released, which is funny since they are voiced by the series' creators.
Fusionater: We know about the commentary Jason... It was my number 7 remember?
Lindgren: This episode was just "Meh" for me, but when I watched it again, it was simply brillaint. Ferb has never looked cooler than when he pulls down his sunglasses to impress Vanessa. Also isn't it funny that Isabella's cuteness is so strong that it destroys the Cuteness Tracker when it is set to normal?
And the #1 Phineas and Ferb Episodes for fusionater, Jason on the House, and Lindgren are...


Fusionater: Hail Doofania!
This episode is sort of counter intuitive as my number 1, it's a complete reverse of the standard plot, with Doofenshmirtz and norm being the A-plot, And phineas and Ferb being "Thwarted" by Perry the Platypus. Diuring the episode, Doofenshmirtz, spiteful of his brothers election as mayor, decides to build his own country, called Doofania! This of course fails miserably when a fishermen pokes a hole in the tube that was keeping the country afloat(seriously doof?). Perry the Platypus can't stop him because of a collar thats keeps him from entering his lair.
Meanwhile, Phineas and Ferb try to help Isabella see her first rainbow by building the rainbowinator! Which will "spread a giant rainbow across the entire Tri-state area! Another subplot involves Candace and Vanessa doofenshmirtz clothes being switched at the dry-cleaning, further reversing the plot. Vannessa is also the primary buster in this episode rather than candace. All in all, this was a fantastic episode and it easily earns it's place at my number 1.
Jason: It's a pity that Doof doesn't have any common sense, because Doofania looked quite awesome. It's also funny that Vanessa is calling her frined "Lacey", an obvious reference to "Stacy", Candace's friend.
Lindgren: We even have Norm saying "Watcha doin'?"! I feel sorry for Doof, because Doofania looked very nice with high-tech, bright atmosphere and shiny buildings. I wouldn't mind living there, really.
Fusionater
: Me neither.
Jason
:
Lindgren: It's About Time!
Phineas and Ferb fix a time machine at a museum and travels back to the age of the Dinosaurs, yet the machine is destroyed, leaving them trapped. Dr. D meanwhile replaces his nemesis with Peter the Panda from Seattle, which depresses Perry very much.
Realizing that they are right in front of the dinosaut footprint that will be displayed in the Danvile museum many years later, Phineas write a message on it to Isabella, who sees it with her friends and make another time machine. Isabella and her friends at first fail because Phineas forgot to put M, so they make "Tie Machine". How does that work?
Anyway, Doofenshmirtz and Perry both have brillaint musical numbers of how they miss each other as a nemesis. Doof eventually propose appologize Perry, and promises him that he'll go back fighiting him using cartoonish slapstick and violence. There are just so many things in it, yet it doesn't seem crowded. It's such a fabulous episode.
Fusionater: CURSE YOU PETER THE PANDA!!!
Jason: Let us not forget, that there are two "M"s in the "Time Machine".
Jason: Phineas and Ferb Christmas Vacation
Maybe I'm cheating by including a long Christmas special, but this is one of the cutest Christmas specials ever, The parody of their opening in "winter" version was very clever, and the songs are very nice too. I sometimes recommend others to see this episode first, since it manages to decribe all of the kids' feelings and characteristic AND tell a really consisten story throughout. It was a very nice, perfect episode. The song Where Did We Go Wrong, where the children reflects on themselves after being shocked that their letters to Santa are sent back with a "Naughty" stamp, is so good.
Fusionater: This is a fantastic Christmas special!!! I loved every minute of it! Excellent choice jason.
Lindgren: It's a perfect Christmas special. Nice choice!
5 minutes later after the review is over...
Jason: Ordinarily I would simply let you go, but what with your allegience to Darkfan21, I don't see that happening.
Lindgren: Your stuck down here fusionate..
Fusionater: Hahahahhhhhehehhehhah!! (Jason and Lindgren gasp). I presume you to have seen the very first episode of phineas and ferb?
Jason and Lindgren: Yes, yes we have!
Fusionater: Now if there's one thing I learned from that episode, it turns out science has been wrong all along, tin foil is indeed magnetic, which leads me to this... Behold!!! The magnetonimizer...inator!​!!!
Jason and Lindgren gasp. fusionater has been secretly assembling materials during the review.
Jason: Where did you get that!?
Fusionater: Not important. What is important is that you've laced this room with an unusually large amount of tin foil.
Lindgren (nervously): what are you going to do?
Fusionater (pushing the button): I'm going to set it free. (rumbling)
Jason and Lindgren: WHATS GOING ON!!!??
Fusionater: The tin foil is pushing outwards. Magnets work to ways, a push and a pull, right now it's pushing. Soon the entire structure will collapse. Jason goes for the device, but Fusionater crushes it with his bare hand.
Jason: You fool! now we'l all die!!!!
Fusionater: Not likely, now if you'll excuse me,
fusionater throws a novelty batarand at the lightbulb. Lindgren and Jason are knocked out.  
5 minutes later, they wake up lying in the middle of a field.
Jason: where are we?
Lindgren: I think this is our base.
Jason: What base?
Lindgren: The tin foil must have pushed it away... far away...
Jason (contempt): he got away.
Lindgren (sigh): Do you think Moviefan12 will send us another lego care package for a new base?
They both just sit there and stare off into the sunset