Avengers is a huge hit, and it couldn't have happened to a nicer movie. Aside from being entertaining as hell, Avengers felt like a kinder, gentler kind of a blockbuster: Good humored, fun, made for geeks by geeks. I can't image any other movie this year being as satisfying a filmgoing experience as Avengers.
...Okay...maybe one other movie.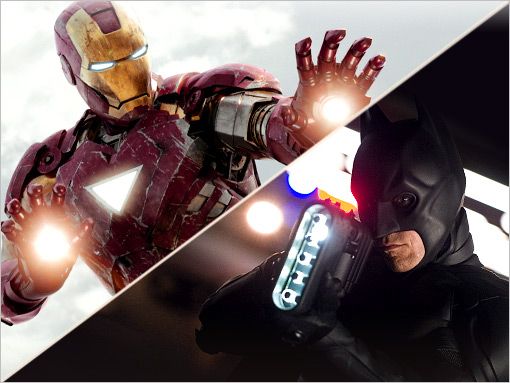 Lets all get a few things straight here: The Dark Knight Rises will not beat Avengers at the box office this year. Don't get me wrong, DKR will be huge and should easily take the second place spot. Hell, it'll probably make over a billion dollars. But the final Christopher Nolan Batman film will not have 3D money pouring in. As one recent review said about The Avengers and other 3D blockbusters, "Its like saying a baseball player on steroids beat Babe Ruth's batting average."
On top of that, DKR is going to be such a dark, grim movie. Parents who brought screaming, traumatized children out of The Dark Knight are not going to be burned twice, especially if suspicions are confirmed and Batman dies defending his beloved Gotham City. Avengers was more family friendly - bright, colorful, fun. It was the more family friendly of the two movies.
Now, you would think that a year where the two major Hollywood event films were both based on comic books would make fanboys jump for joy. Avengers is on track to become the third most profitable film of all time, while DKR seems like a shoe-in for an Academy Award nomination for best picture. I mean, its not like these movies are really in competition. They open months apart and are really made for two different audiences. Avengers producer Kevin Feige is on record as saying he's looking forward to DKR, and feels its success will benefit Marvel and help further legitimize the comic book film as a serious genre.
So how come fanboys are at each others throats like fucking children?
If you ever want to see the scum of geekdom, head on over to the message boards on SuperHeroHype.com. I've found more inspiration for Stop the Hate there than I can begin to tell you. Everyone hates everything, nothing looks good, everything is overrated or a piece of shit or the worst thing ever made. Nothing is ever good enough, and anything can be grounds for a fight.
The big fight now? Avengers fans vs. Dark Knight fans. Oh my, how Avengers fans are crowing about a Marvel movie shattering the box office records once held by Nolan's critically acclaimed Bat flick. And they know that DKR has little chance of catching up to Avengers at the box office, which in their eyes means the movie is a failure, and oh how they are rubbing it in.
Fuck! This is so fucking stupid!
Let me get this out of the way, because I've said it countless times before and I sound like a broken record: Find something better to do with your time! My God, if battling over the box office returns of two movies, one of which hasn't even been released yet, is the best thing you can think to do with your time, then there is no hope for you.
But let me throw a new argument into the ring. All these pricks who are saying "Avengers is #1, ha ha ha" have forgotten an argument they've made to another rabid fanbase. The argument is with Twihards, and it goes a little something like this: "Box office doesn't mean anything if the movie sucks."
Oh how Avengers fans have forgotten. They rallied against the force of Twilight with that battle cry. "Box office means nothing!" They said it over and over again on message boards proclaiming the box office bonanza of the last two Transformers movies. "Box office means nothing!" When Tyler Perry's latest drag on cinema crossed the #1 line, they joined hands against the tide of Madea fans and screamed, as loud as they could, "Box office means nothing!"
Those same people are now quoting every number, every decimal point, when it comes to the box office take of The Avengers. "Of course its the best movie ever," they proclaim. "Look at the box office. People wouldn't go if it weren't such a good movie. Its obviously better than Dark Knight, look at the numbers." ...Are those same people ready to admit that the Twilight Saga is a work of genius? After all, box office numbers don't lie.
This whole Avengers vs. DKR thing is utterly ridiculous. One will make more than the other. There was never a chance that they were going to come in at a dead heat at the box office, right down to the cent. While its fun to speculate about box office numbers, there's no need to be cruel and mean spirited just because your movie beat another. Its an utter waste of energy and of life, and it makes us all look bad. I'm about the biggest nerd there is. I have a Batman piggy bank, and about two feet away from that, hanging on my wall, is a Captain America shield. Yet when I look at these petty, insipid fanboy quarrels I want to join the chorus and say, "Get a girlfriend, losers!"
The Dark Knight Rises is my number one most anticipated movie for the rest of time (or at least for the next few years). I'm counting down the days till its release. And now that Marvel has announced a September 25th release date for the Avengers bluray, I have that to look forward to as well. I'm a Marvel and a DC. I get to win twice this year. More people should chill out and join me in the awesome that is summer movie season 2012...its a nice place to be.